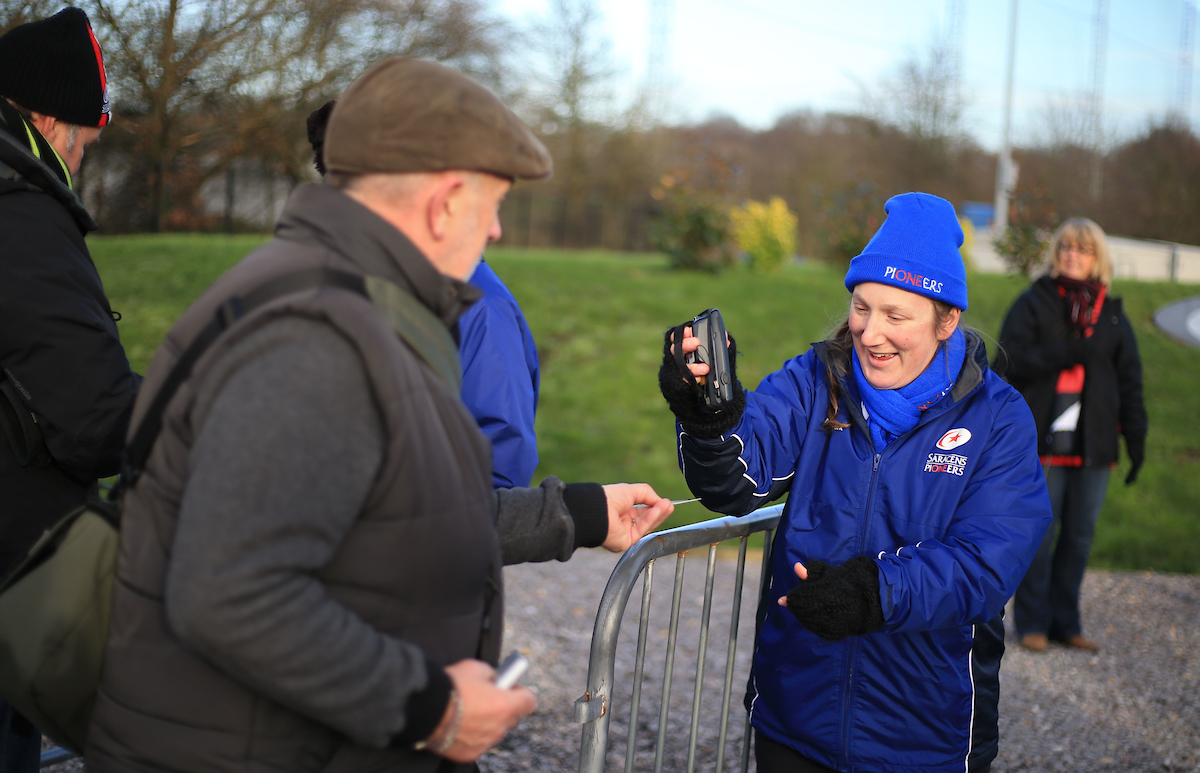 Dear Seasonal Members,
We understand life is busy and it's not always possible to attend every game included in your Seasonal Membership.
But please remember…
• Your support really does make a difference to the team on the pitch
• An empty seat can't cheer on the team
• It's simple to transfer your membership and fill your seat, even if you can't attend the game (see how below)
• Introduce a friend, colleague, family member, or even a complete stranger to the Sarries family
and now get rewarded with our new 100% SCAN = 100% FAN initiative
Every Seasonal Member who fills their seat for the Saracens Men Vs Exeter game on the 31st of December is eligible for 500 Saracens Rewards points*
And that's just the start…
100% SCAN FOR THE REST OF THE SEASON AND RECEIVE THESE GREAT BENEFITS
Use your Seasonal Membership card (physical or digital) to scan into the ground with one of our Pioneers at every remaining 22/23 Season home game at StoneX Stadium** and receive.
• 2000 Saracens Rewards points (worth £10 (redeemable on Tickets and Merchandise))
• A limited edition Saracens "100% Fan" pin badge
• Entry into a prize draw*** to win a hospitality upgrade
Remember you do not need to attend every game yourself to qualify, simply transfer your card (see instructions below) to a friend or family member to attend the game on your behalf and you still will receive all the benefits listed above.
HOW TO TRANSFER YOUR SEASONAL MEMBERSHIP
Your ticket is FULLY TRANSFERABLE so please forward to a contact to ensure your seat is used & enjoyed!
What is Ticket Forwarding?
Ticket Forwarding allows Seasonal Members to transfer their ticket at no charge to a friend or family member, within their 'My Network', for home games included in their Seasonal Membership that they cannot attend.
How do I share my ticket?
Seasonal Members can transfer their seat for a game using 'My Network' in their Saracens Ticketing account.
Up to 20 individuals may be listed within a members 'My Network' within the "My Account" menu. To add friends and family to your network, you simply need their Membership Number and Surname.
To share your ticket, follow these steps;
1. Select the fixture that you're unable to attend
2. Select the seats that you wish to share from those available within your network
3. Click 'Share Tickets'
4. Choose who you would like to share your ticket(s) with from those listed in your 'My Network'
5. Your friend or family will then be notified by email and asked to 'accept' the ticket
What happens after I've transferred my ticket?
Seasonal Members that share their ticket for a game will have the ticket removed from their digital pass for the fixture. The person receiving the ticket will be issued with a digital ticket to download to their mobile device.
* 500 points per Saracens Rewards account. If you only have one account for all your Seasonal Memberships create a Saracens Network and assign each membership to an individual so that they can each claim their points.
** Includes all remaining Gallagher Premiership, Premiership Cup and Champions Cup Pool Games. Excludes knock-out fixtures.
*** Terms and Conditions Apply
The prize draw closes on the last regular fixture of the Mens season.
The winner will then be drawn on 1st July 2023 and notified by email.
The winner will be picked at random using a computer-generated selection process from all eligible and valid entries into the Prize Draw. No cash alternative to the prize will be offered. The prize is non-¬‐refundable and non-¬‐ Prizes are subject to availability, and we reserve the right to substitute any prize with another of equivalent value without giving notice.

Latest News Articles