Saracens have become triple European and five-time Premiership Champions by focusing on the club's core values and an emphasis on fun, happiness and making memories.
At Saracens we appreciate that we are living in different times and with this has come some changes with how we run our camps at Saracens, with the safety of our visitors and staff at the forefront of our minds.
We have risk assessed the stadium alongside both the government's guidelines of "Protective measures for holidays and after school clubs" Also, the RFU'S Return to Rugby. This continues to be constantly reviewed.
We hope this highlights the importance to us here at Saracens that you leave knowing that your child is in a safe, protected fun environment.
As well as developing outstanding rugby players, the coaches at Saracens aim to develop outstanding people. They have done it 'The Saracens Way'.
Fresh for 2019/20, Saracens Rugby Camps will be introducing a new delivery structure which will maintain our focus on fun and friendships but use the Saracens values of Honesty, Work Rate, Discipline and Humility to support the development of our young players on and off the pitch. Better people, Better Players.
With a delivery plan that has been put together in conjunction with the Saracens Academy, who have overseen the progression of players such as Owen Farrell, Maro Itoje & Jamie George, Saracens Rugby Camps provide the perfect environment for developing players in a fun and safe environment.
Discover Saracens Rugby Camps
Saracens place great emphasis on developing people both on and off the pitch at every level; and our camps aim to do the same.
Coaches will pass on expert advice and tips, creating a fun and enjoyable environment in which participants will work closely in groups of the same/similar age covering a host of skills. Individuals can expect to cover content specific to their age group as well as developing core fundamentals. Our adaptable coaching staff allow access for all abilities from novice to expert. Our grouping structure welcomes young tag players and also offers older players a tailored, age-specific experience.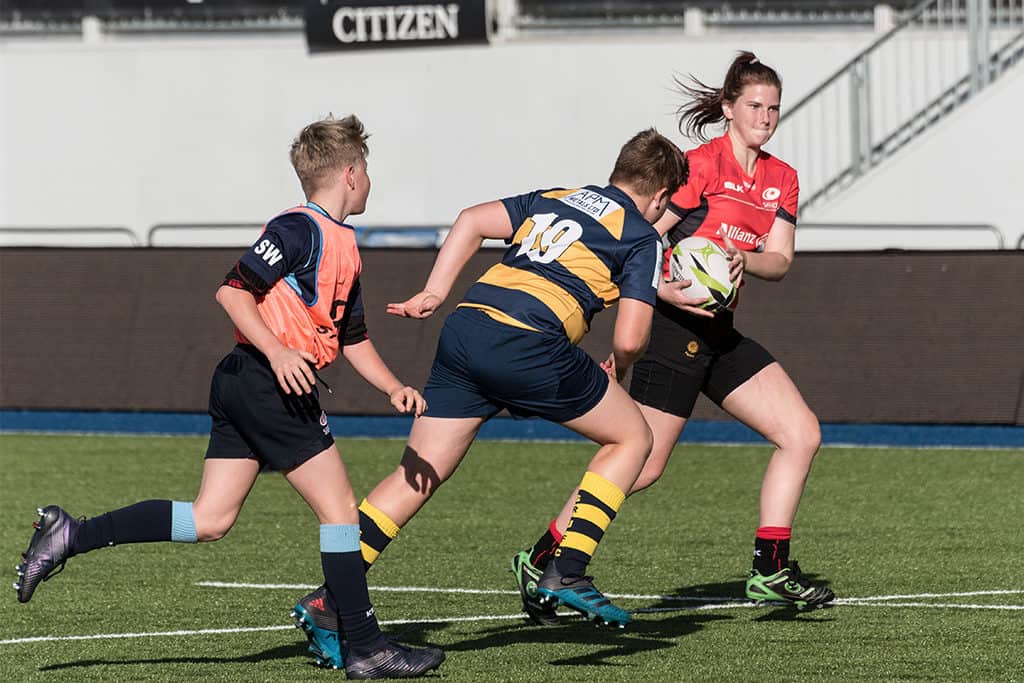 Ranging from 1 – 3 days, the staple of our Camps programme aims to upskill players in all aspects of the game in a welcoming, enjoyable and safe environment.
The flagship of the Rugby Camps calendar, our residential camps put young players into the boots of a professional while they eat, sleep, train and live like pro.
Tailored toward young players who are committed to developing their rugby, our residential camps offer a sporting experience like no other.
Saracens Kicking Clinics take time to look at the finer nuances of modern rugby's most important skills; covering goal-kicking, touch-finders, up-and-unders and more.
Perfect for any future Owen Farrell, these specialty clinics break down what it takes to be the most effective on-field general at scrum-half or fly-half.
Supported by Saracens Women, our hugely popular girls-only camps focus on the game, but also explore the different journeys that female players might take to reach the heights of our very own two-time Tyrrells Premier 15s Champions
Train with the pros coaching event
A chance for young players to be coached by the Saracens Elite!
Senior players descend on the home of Saracens to don their whistles and also spend some time meeting and greeting their biggest fans.