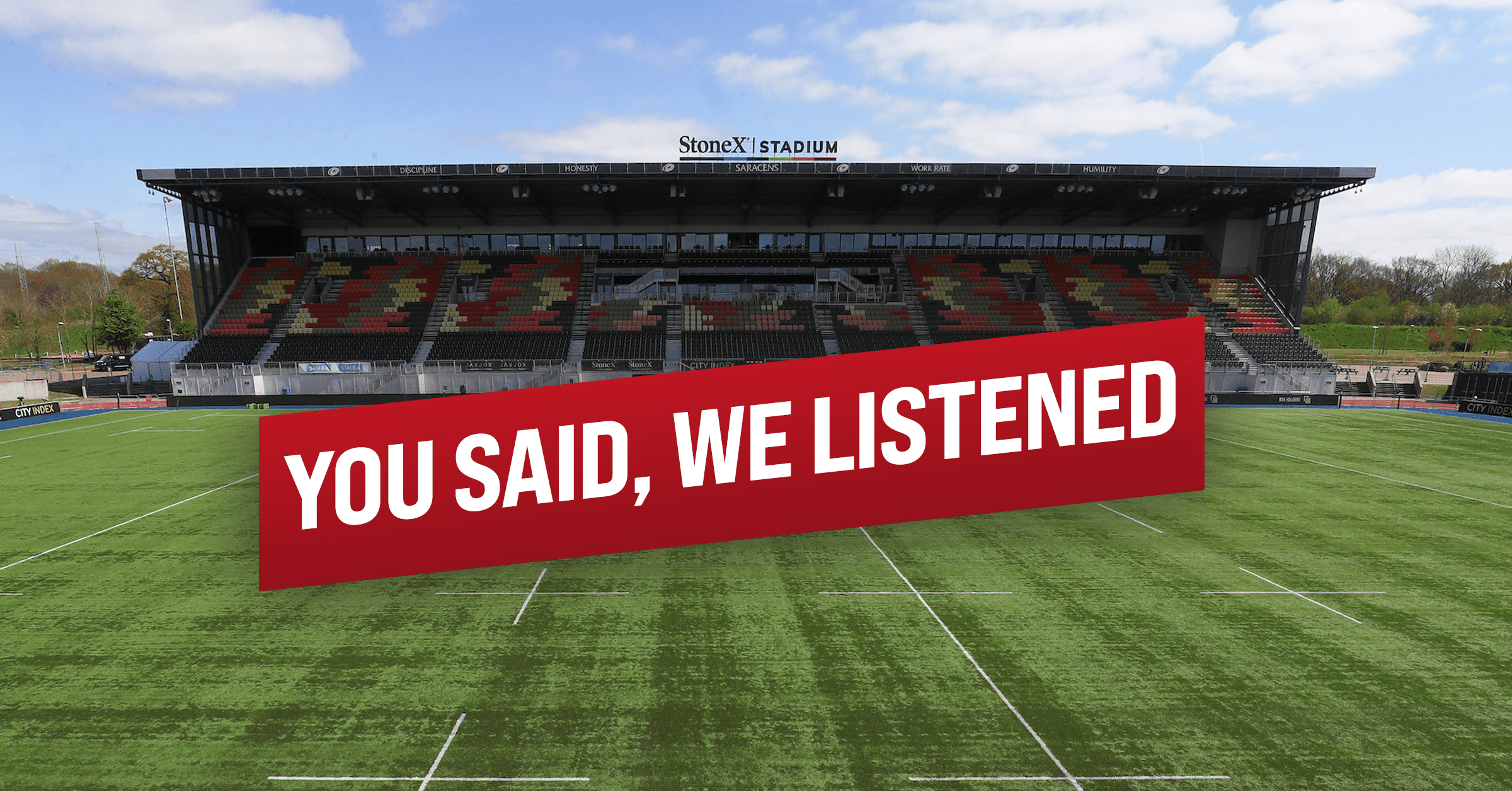 Thank you for your support of Saracens. We are extremely proud of what we have created at StoneX Stadium to date, but we are commitment to make further improvements. Putting people first and providing the very best customer experience are major priorities for Saracens.
Your feedback is extremely valuable to us and forms the basis of regular operational and customer experience reviews, ensuring your match day experience improves, week-on-week.
Please read on to see how we have responded to previous feedback so far and what we have planned moving forwards. If you have further feedback, please don't hesitate to keep us updated via our match day experience survey.
CAN YOU PROVIDE MORE WARM COVERED SPACES FOR SUPPORTERS AROUND THE STADIUM?
We are aware that outside of the Olympic Bar on the ground floor of the East Stand, warm covered spaces across the stadium are limited. We are currently planning some exciting infrastructure developments at StoneX Stadium which will address this issue and further enhance the match day experience for supporters. We will provide updates on these plans as soon as we have them.
CAN YOU REDUCE THE QUEUES FOR FOOD AND DRINK OUTLETS?
We are aware that queues can be an issue on match day, especially at peak times (i.e. 15 minutes before KO and at half-time), and we monitor this closely. We are planning new food and drink infrastructure to create additional capacity and variety around the stadium which will reduce but not eradicate queues. We will be engaging with supporter groups in the planning of these food and drink improvements with the intention of implementing the changes ahead of the 2022-23 season.
CAN YOU MAKE THE FOOD & DRINK OFFERINGS MORE VARIED?
IS THERE ANY MORE SEATING AVAILABLE AROUND THE FOOD & DRINK CONCESSIONS?
ON THE WINTERY DAYS, CAN YOU PROVIDE MORE HOT DRINK CONCESSIONS?
Our official coffee supplier is Tiki Tonga and they have recently increased the number of Tiki Tonga coffee units across the stadium to four.
Coffee, tea and hot chocolate are also available to purchase at the main Olympic Bar on the ground floor of the East Stand.
CAN YOU POSITION A TV IN THE BAR AREA SO WE CAN WATCH THE GAME WHILST QUEUEING FOR FOOD & DRINK?
We have recently upgraded our TVs and digital signage throughout the stadium so that screens are in use within the Olympic Bar area and hospitality areas pre, during and post match. As part of our plans to further enhance the match day experience ahead of the 2022-23 season, we will be installing bigger screens into the Olympic Bar.
WE CAN'T HEAR THE PA ANNOUNCEMENTS! CAN YOU MAKE IT CLEARER/LOUDER?
OUR FAVOURITE PART OF A MATCH DAY IS THE REF LINKS, WILL THESE BE AVAILABLE FOR EVERY MATCH?
THE BIG SCREEN POSITIONING ISN'T WORKING FOR US, CAN IT BE MOVED?
We have endeavoured to setup the stadium for the 2021/22 season so that we can continue to provide the best possible experience for spectators whilst the new West Stand is being developed. We have elected to keep both screens on site and placed them in the optimal position to provide site lines for the benefit of as many fans as possible.
Now that we are using the seating in the new West Stand, we have been able to adjust the big screens and improve the sight lines for a larger proportion of our supporters.
CAN YOU REDUCE THE WAIT TIME FOR SHUTTLE BUSES?
The shuttle buses form an important part of our Match Day Travel Plan and this unique free service to supporters is extremely effective in linking local public transport services to the stadium. The number of buses is subject to expected attendance, so be sure to check our website here week-on-week to for updated travel times.
THE STEPS AROUND THE STADIUM ARE SOMETIMES SLIPPY & DANGEROUS, CAN YOU INSTALL MORE HANDRAILS?
We have an excellent safety record here at StoneX Stadium with very few reported incidences. Handrails are in position on the steps of the East and West Stands, but we are also required to provide suitable movement around the stands for emergency procedures. For any supporters with mobility issues, please contact Supporter Services who will be able to assist you with any specific requests.
CAN YOU INSTALL MORE SIGNAGE AROUND THE STADIUM TO MAKE IT EASIER TO WAYFIND?
We agree that current way-finding signage around the stadium needs to be improved.  We are planning new signage and digital way-finding ahead of the 2022/23 season, to coincide with the full opening of the new West Stand.  In the meantime, if the signage is not supporting your movement around the stadium please speak to one of our wonderful Pioneers who will be able to help you.
WE'D LOVE TO ACCESS THE WEBSITE & APP DURING PLAY, IS THERE ANY WIFI AVAILABLE AT THE STADIUM?
Wi-Fi is available throughout the stadium and is free to use. In line with the West Stand fully opening, we will be providing upgraded Wi-Fi infrastructure and coverage which will support greater access to our website and App throughout the experience at StoneX Stadium.
WILL THERE BE ADDITIONAL WHEELCHAIR SPACES AS PART OF THE WEST STAND?
There are currently three wheelchair seating areas within the stadium, providing a limited choice for our wheelchair users. We have addressed this in the design of the new West Stand which will provide additional facilities for supporters using wheelchairs and personal assistants across four new separate locations within the stand. Accessible by two separate lifts at either side of the stand, these new facilities will become available for the start of the 2022-23 season.
CAN YOU TURN THE MUSIC DOWN SO THAT I CAN SPEAK TO MY FRIENDS BEFORE THE MATCH?
We receive lots of feedback about PA volume and clarity. We monitor crowd attendance each week and work on volumes accordingly, testing different configurations in order to optimise the system. We will continue to review feedback from supporters and seek to provide the best possible experience. However, please understand that volume is subjective, and although we monitor and adjust accordingly, it may not suit everyone at every game.
CAN YOU CHANGE THE MUSIC SO THAT IT IS MORE ENJOYABLE TO THE FULL AUDIENCE?
As we hope you will appreciate, music is a subjective topic! We will continue to work with the Saracens Fans Forum, in addition to match day surveying, to ensure the playlist is as balanced as possible.
OUR CHILDREN ARE IMPATIENT TO GET ON THE PITCH POST-MATCH! CAN YOU MAKE THE WAIT TIME SHORTER?
We fully recognise that providing access to the pitch after the game is a unique and special part of the StoneX Stadium match day experience. Unfortunately, COVID-19 restrictions for the majority of this season have limited our ability to open the pitch prior to the players completing their post match activities. With COVID-19 restrictions now lifted we are pleased that we are able to provide earlier access to the pitch and hope that you and your children are enjoying this unique experience.
It is important to note that we will need to continue to respond with any future changes to COVID-19 restrictions for the protection of our players and supporters.
THE FAN EXPERIENCE IS OFTEN TAINTED BY FANS GETTING UP AND MOVING AROUND DURING THE GAME, CAN YOU ENCOURAGE THEM TO STAY IN THEIR SEATS UNTIL HALF/FULL TIME?
We understand how movement amongst the crowd can have a negative impact on the experience of others. We currently use our big screens and programme messaging to encourage fans to remain seated until breaks in play and will continue to do so. We also brief our Pioneers to look out for this behaviour and intervene if necessary and we will continue to stress this in future briefings.