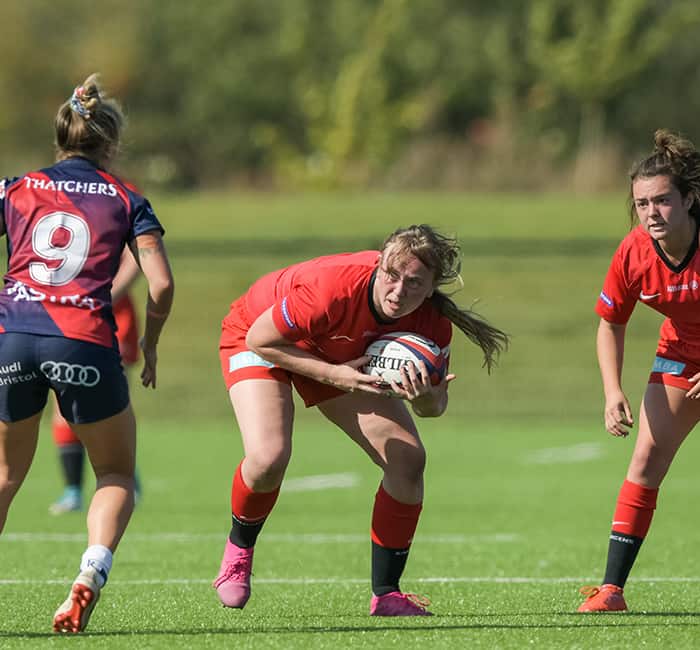 First and Lasts: Jodie Rettie
We sat down with Saracens Women forward and Scotland international Jodie Rettie to get a rundown on some of her First and Lasts!
FIRST
…time you picked up a rugby ball? 
I was 16 at college
…club you played for?
Lakenham Hewett
…album you bought?
Spice Girls
…app check you in morning?
whatsapp
…broken bone?
wrist
…country you visited?
Majorca
…celebrity crush?
David Beckham
…pet?
I had a horse! His name was Deano. I also had a budgie called Cloudy. I had lots of pets when I was younger, hard to say which came first!
…sporting event you went to?
Norwich City football match
…thing you do after a match?
Go and see Dale and moan about how tired I am!
LAST
…thing you bought?
I just bought a car for my wedding, does that count?
…book you read?
Don't read books…probably Of Mice and Men at school
…thing you googled?
Wedding guestbooks
…time you watched a live sport?
Scotland vs England in the Women's Six Nations
…holiday you went on?
Caribbean cruise!
…person you called?
Dale
…TV series you completed?
How to Get Away with Murder
…thing that made you laugh on a rugby pitch?
Duffy falling over as she ran onto the pitch
…person you'd like to be stuck in a lift with?
Dwayne Johnson, cause I love him, but I'd be such a mess around him. It would be embarrassing
…person you hugged?
Milly Cox-Fuggles, one of my best mates!
Latest News Articles