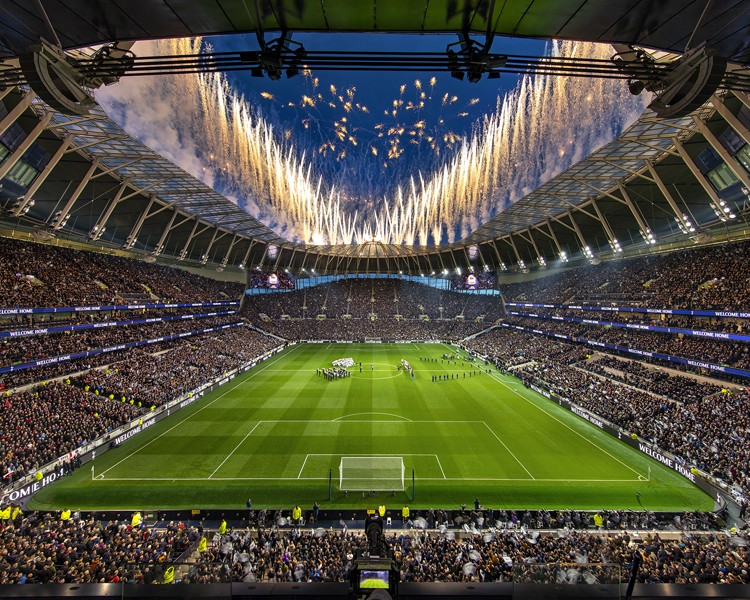 Match Day Guide – The Showdown 2, in association with City Index
Advanced tickets sales for The Showdown are now closed.

To purchase tickets for the match, please come to the Tottenham Hotspur Ticket Office after 11:30AM on Saturday where we will have tickets available. 
We hope you are looking forward to the game on Saturday at Tottenham Hotspur Stadium for what promises to be a spectacular day of sport and entertainment!
Please read the information below to find out everything you need to know ahead of the game from travel, event timings, stadium maps and more.
There are a few ESSENTIAL things you need to know before heading to the game:
1) You MUST bring your SHOWDOWN 2 ticket with you to access Tottenham Hotspur Stadium. To do this DOWNLOAD your ticket/s in advance: either to your mobile device, or PRINT on A4 paper.
NOTE – StoneX Stadium Seasonal Membership Cards are NOT VALID FOR ENTRY.
2) You may NOT bring a bag to the Tottenham Hotspur Stadium that is larger than A4 size.
3) Tottenham Hotspur is a CASHLESS stadium.
EVENT INFORMATION / MAP
Date: Saturday 26th March
Location: Tottenham Hotspur Stadium, 748 High Road, Tottenham, London, N17 0AP
Gates: 12H30
Kick-off: 15H00
Bars close: 18H30
Stadium closes: 19H00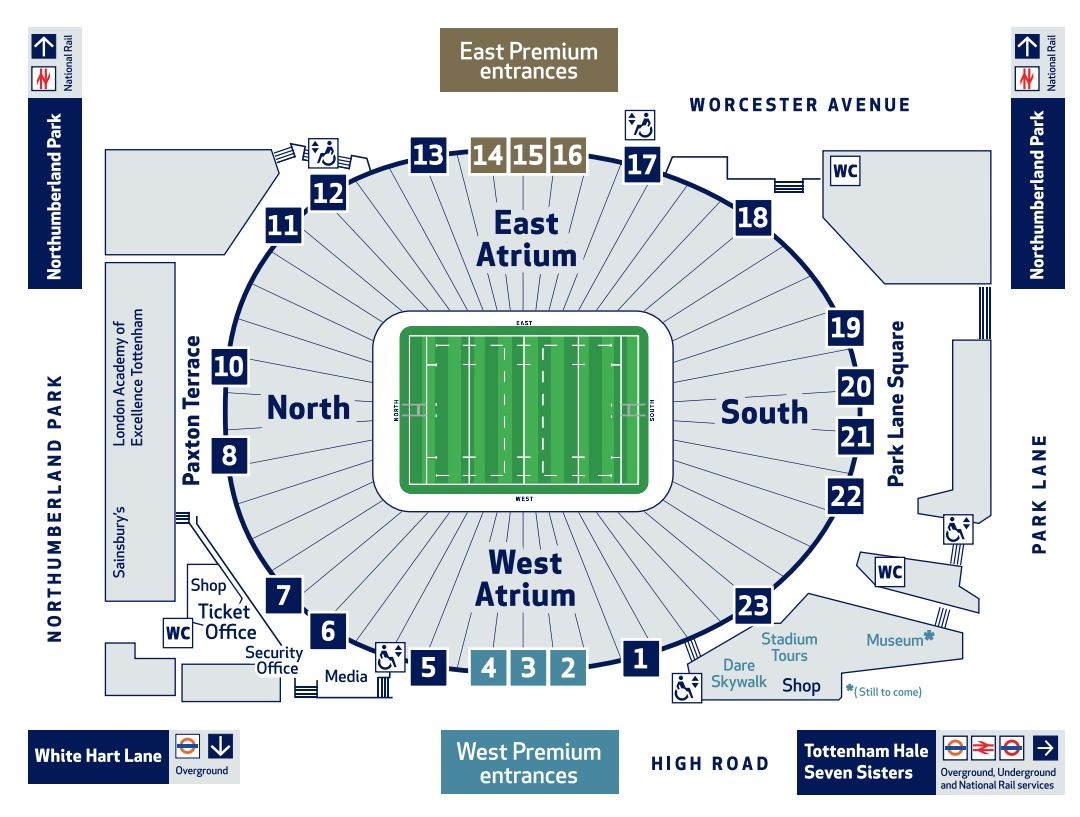 TICKETING / TICKETING OFFICE
Please remember to download your tickets at home before you arrive at the stadium.
Please note there is NO ticket collection or ticket printing service on the day.
The Tottenham Hotspur Stadium ticket office will be open on the day at 11H30 for the purchase of tickets or if you have any general queries. This is located North-West of the stadium, please see the map above.
PLEASE NOTE, our online ticket platform closes on Friday 25th at 08H00. After that, tickets can be purchased on the day from 11H30 at Tottenham Hotspur Stadium ticket office.
STRICT BAG POLICY
Spurs have a restricted bag policy at the Stadium. Any bag must adhere to their guidelines or it will not be permitted into the stadium.
TRAVEL
Tottenham Hotspur Stadium is easily accessible by public transport. You are advised to check your journey prior to leaving in case of any line closures or diversions.
STADIUM (CASHLESS / COVID)
CASHLESS STADIUM
Tottenham Hotspur Stadium operates a fully cashless stadium for increased speed of service and improved hygiene.
COVID-19
COVID passes are not required as a condition of entry to a match at Tottenham Hotspur Stadium. Fans are still encouraged to follow public health guidance when attending matches, including wearing face coverings when indoors or in crowded areas, maintaining good hand hygiene and not attending if you have COVID-19 symptoms.
FOOD AND DRINK
There are a wide range of food and drink choices available at the stadium, including a Saracens pie!
MATCH DAY ENTERTAINMENT
Arrive early to enjoy all that Tottenham Hotspur Stadium has to offer and look out for the pre-match entertainment happening all around the stadium!
Make sure you check out the Fan Zone (South Podium) pre-game and post-game, expect DJ sets, live performances and much more…
Please note that the Fan Zone will only be accessible for ticket holders in the South, East and West Stand pre-match. However, post-match all ticket holders will be able to access this area.
KEY THINGS TO CHECK-OUT ON THE DAY…
· The Goal Line Bar (Europe's longest bar) in the South Stand.
· The Tottenham Hotspur Retail store – the largest retail space of any football club in Europe. Saracens merchandise will be available to purchase from this store!
· The Beavertown Microbrewery – South-East corner of the stadium, level 1.
POST GAME – BARS AND LEAVING THE STADIUM
Stick around post game to continue enjoying all the food and drink offerings at the stadium. Why not head to the Fan Zone (South Stand) and check out the DJ set?
Please note the bars will close at 18H30, with the stadium closing at 19H00.
Due to the size of the crowd, and nature of the Tottenham Hotspur Stadium, please expect congestion when leaving the stadium. To avoid queues and maximise your match day experience, we highly recommend you stick around, enjoy the food, drink and entertainment and make your journey home at least an hour after the final whistle.
RETAIL / PROGRAMMES
The Saracens Store will be heading to the Tottenham Hotspur Stadium! The Tottenham Experience located at the southern end of the stadium is home to the largest retail space of any football club in Europe. The store will open on match day at 9H30 and will close at 18H30.
Make sure you head to store to get kitted out in the Sarries colours! All the Saracens ranges will be available to buy, from the Castore replica kit to the Training range and the one-off Showdown scarf!
Please note that you will need to visit the retail store prior to entering the stadium or when exiting the stadium, you are not able to get the store from within the stadium.
PROGRAMMES
Programmes will be on sale both outside and inside the stadium.
HOSPITALITY
Please refer to your itineraries you will receive from the Saracens operations team. For any additional queries please email hospitality@saracens.net
CHARITY PARTNER – DUCHENNE UK
As a reminder, our official match day charity partner for The Showdown 2 in association with City Index is Duchenne UK. This is a fantastic charity, and we encourage all fans to give generously. There are numerous ways to donate:
Match day:
1) Head to the bar and 'buy one for Duchenne' by donating when you purchase your drink
2) Text TACKLEDMD to 70085 to donate £10
3) If you're enjoying hospitality at the stadium, you will see pledge cards and donation envelopes on every table.
Thank you in advance for your support. Together, we will end Duchenne.
Latest News Articles