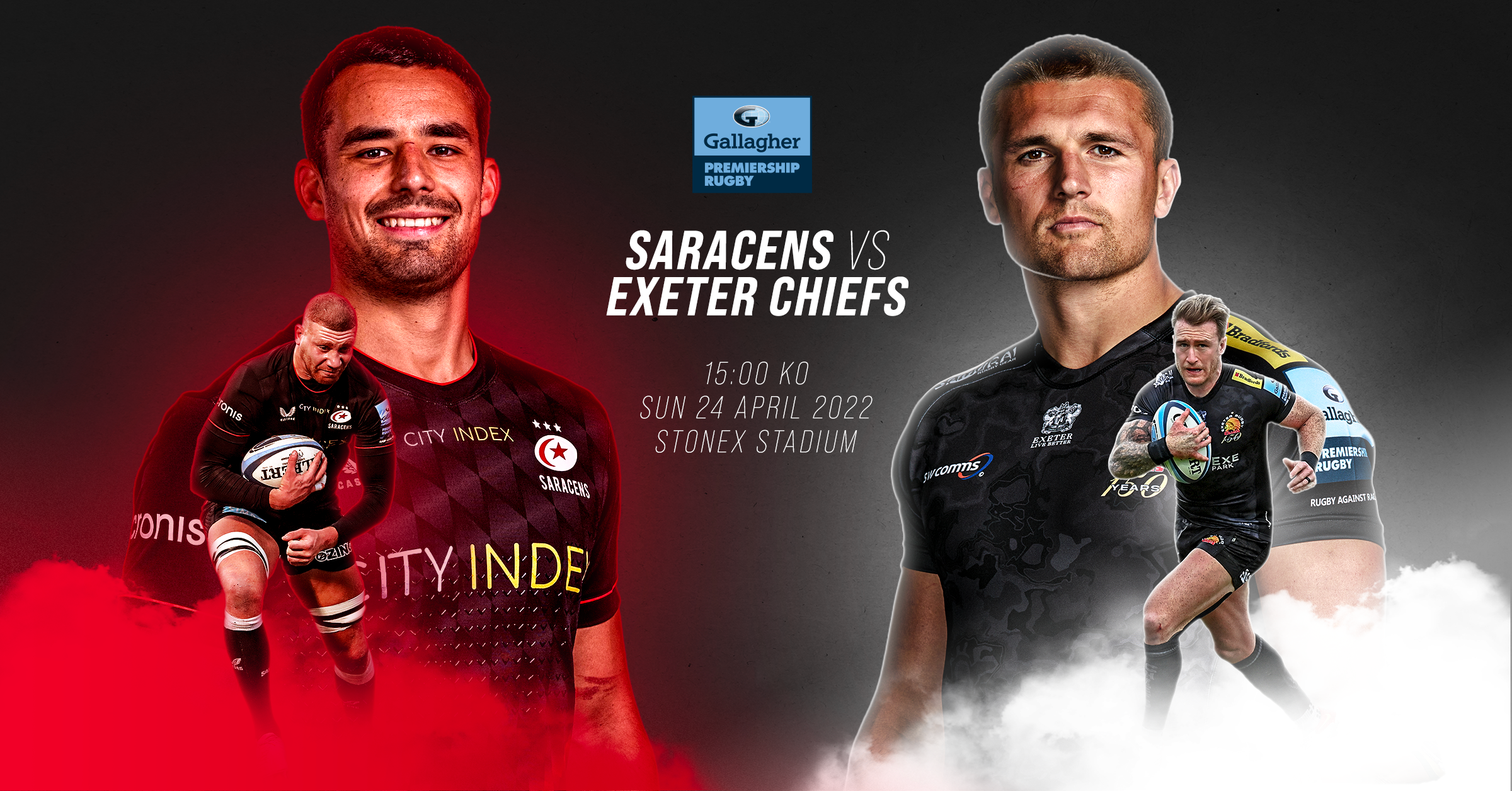 A thrilling family day out full of top-class rugby, awesome match day entertainment, delicious food and drink, and a guaranteed Super Sunday!
This weekend's game is our extra special Saracens Foundation Takeover match, so keep an eye out round the ground for information and fundraising activities!
It's the business end of the season…
Saracens side can take a significant step towards the Gallagher Premiership play-offs with victory over a strong Exeter Chiefs outfit on Sunday.
It has been a long and hard campaign for Sarries but with just four round-robin fixtures left we are approaching the business end of the season.
A lot of hard work has gone into ensuring Saracens can compete for silverware at the top end of English and European rugby once again following their promotion from the Championship at the start of the season. Saracens are currently second in the table, and four points on Sunday would go a long way to securing a place in the end of season play-offs along with a home semi-final which has proved to be crucial in the past.
Saracens director of rugby McCall insists this is a very important game which will make a big difference to the final outcome of the Premiership table. "Exeter is an important game because we want to qualify for the top four and get a home semi-final, if possible," he said.
Saracens' last home Premiership fixture was held at the Tottenham Hotspur Stadium where they recorded a hard-fought 27-23 victory over a Bristol Bears side who pushed them to the absolute limit. McCall and his players know they will have to take their game up a few notches from the clash with Bristol if they are to come
out on top.
Exeter might be wounded having just been knocked out of the Heineken Champions Cup, but they will also be battle hardened following two international level games against European superpowers Munster. In recent times Exeter have always bounced back after a defeat, and Saracens will be wary of that.
Indeed, the last time both sides met was in December with Exeter grinding out an 18-15 win at Sandy Park with wing Tom O'Flaherty, and hooker Luke Cowan-Dickie touching down for the Chiefs. Saracens and Exeter have played out some monumental fixtures over the past decade, with the Chiefs having been crowned English champions on two occasions.
Both sides have also faced each other three times in the Premiership final, with Saracens having won all three. Baxter's side will know if they can sneak into the last four then they have the experience, power, and class to make another Twickenham final. England head coach Eddie Jones will surely have his eye on this fixture given the magnitude of the game, and the number of internationals both sides have historically produced.
Exeter are also in last chance saloon having lost a vital home clash against Leicester Tigers earlier this month, although they did bounce back with a resounding victory over Bath at Sandy Park a week later.
The Chiefs' rags to riches rise to the top of English rugby is well-documented, and they have enjoyed remarkable success over the past decade being crowned both English and European champions in 2020. But they are in a fight with Northampton Saints, to make the top four, and Sunday's clash will go a long way to determine the fates of both Exeter and Saracens this season.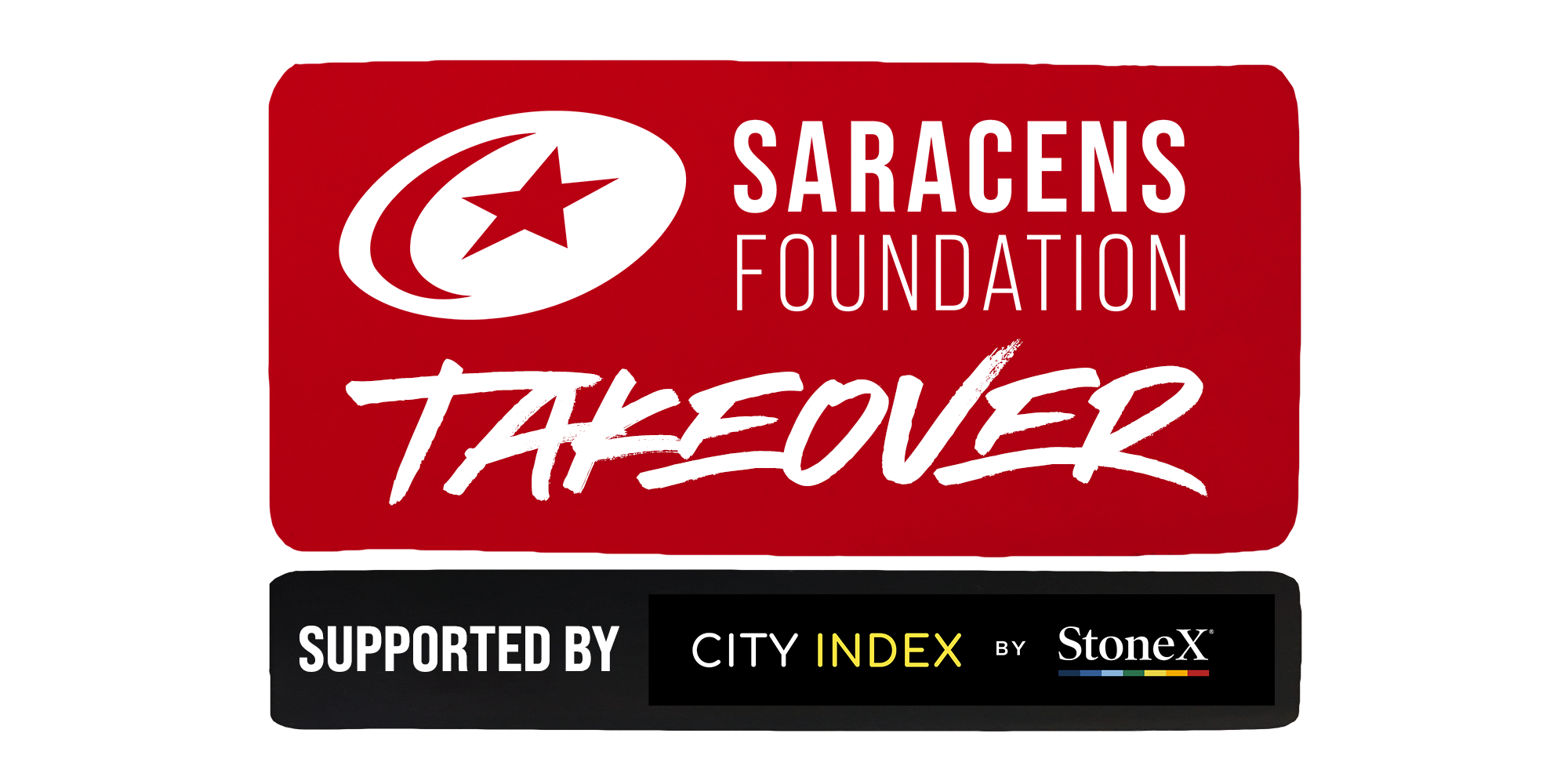 SARACENS FOUNDATION ARE GEARING UP FOR THE MATCHDAY TAKEOVER!
The Saracens Men's match against Exeter Chiefs on Sunday 24th April will take on an added significance as the Saracens Foundation will also take centre stage for a match day Foundation 'takeover'!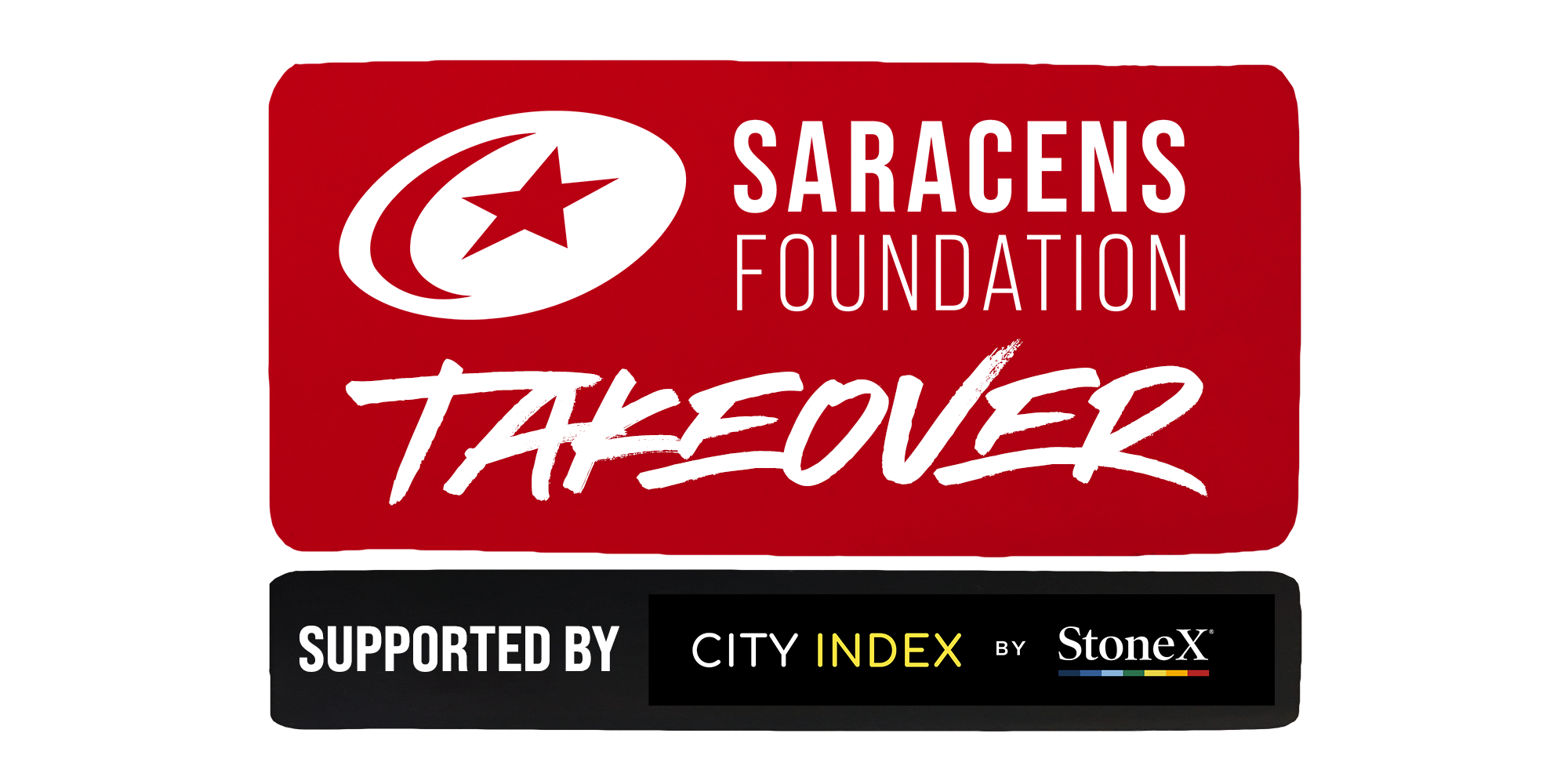 Watch from the running track right in front of the East Stand
FROM ONLY £17.50
Feel the atmosphere in the mix of the North & South Stands
FROM ONLY £17.50
Watch the players run out onto the pitch at the corner of the East Stand
FROM ONLY £22.50
Take your seat at either end of the West or East Stand
FROM ONLY £26.00
Watch from the East Stand between the 22 and 10m line
FROM ONLY £49.00
Experience all the action right from the half way line
FROM ONLY £65.00
A luxury padded seat right on the halfway line
FROM ONLY £77.00
COVID-19 PROTOCOLS
Saracens continues to treat supporter safety and its Duty of Care to anyone attending StoneX Stadium with the utmost importance.
Following the Government's announcement to stand down Plan B protocols in relation to Covid, there is no stipulation to complete a health declaration or lateral flow test to secure stadium access. Covid 19 infection still remains a risk – Saracens cannot completely eliminate the risk of COVID-19. Therefore, if you feel uncomfortable with the risk, you should not attend a match. We would ask you NOT to attend StoneX Stadium if you have returned a positive COVID-19 test within 5 days of the fixture, or if you have any COVID symptoms – including a high temperature, new continuous cough, or a loss of sense of taste/smell.
Whilst there is no legal obligation to do so, in order to assist with the safety and wellbeing of all stadium visitors, spectators should consider using a face covering in indoor areas and congested areas around other people.
We continue to work closely with our partners at DCMS, PRL and the London Borough of Barnet to ensure that we place the safety of our supporters at the forefront of our planning for upcoming match days.
Please click here to view our Covid-19 Spectator Code of Conduct and we ask that you read and adhere to this whilst on site.
Please acquaint yourself with the stadium layout here, where you will be able to see locations of the stands, toilets, ticket office, shop and food concessions. Should you need any help making your away around the stadium, look out for our Pioneers in blue/black Castore tees who will be happy to help!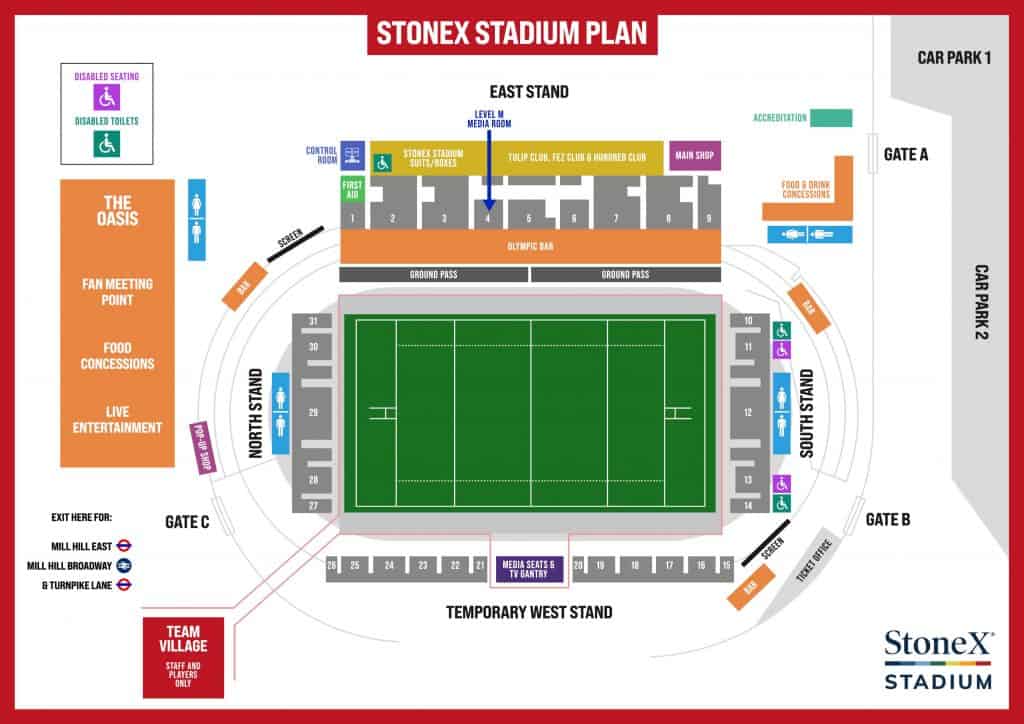 Match Day Entertainment
ENTERTAINMENT STARTS 14
H00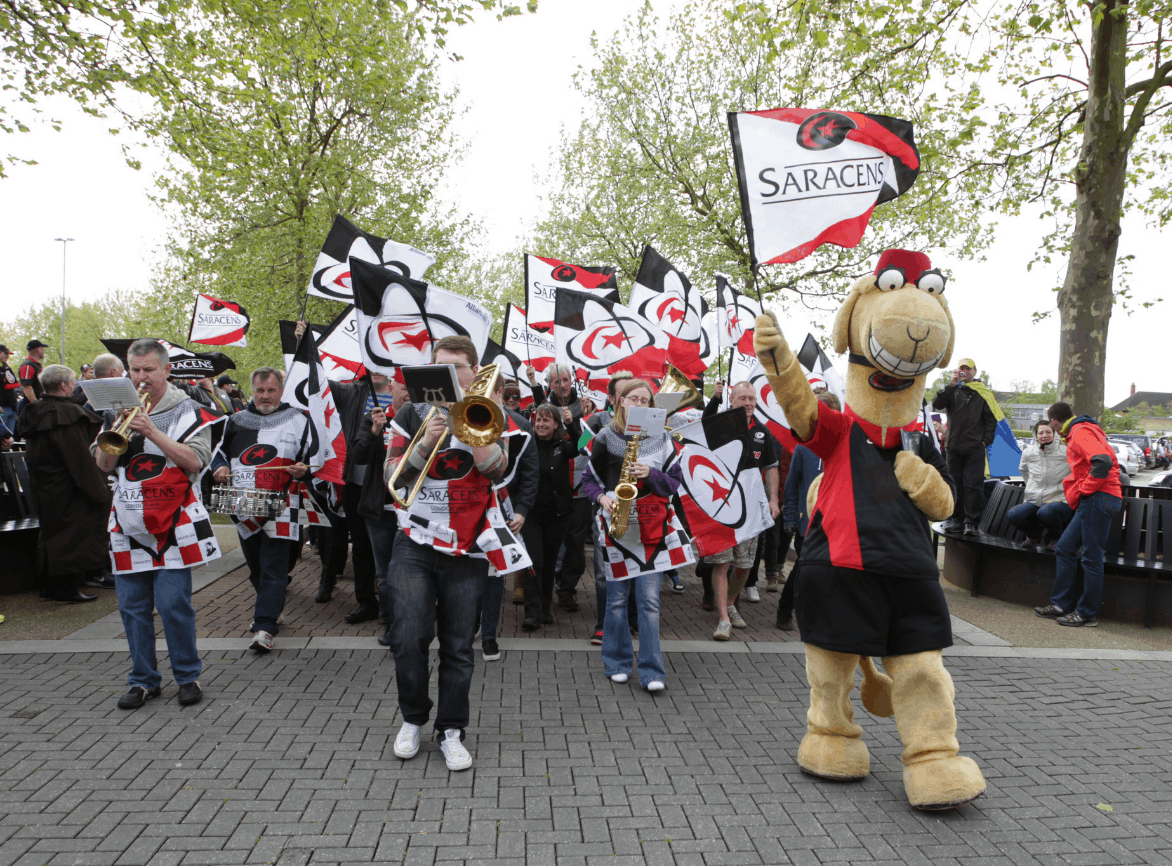 ARRIVE EARLY
Show your support and make some noise! Arrive early to experience entertainment, drummers, the big shirt and get your hands on a free flag!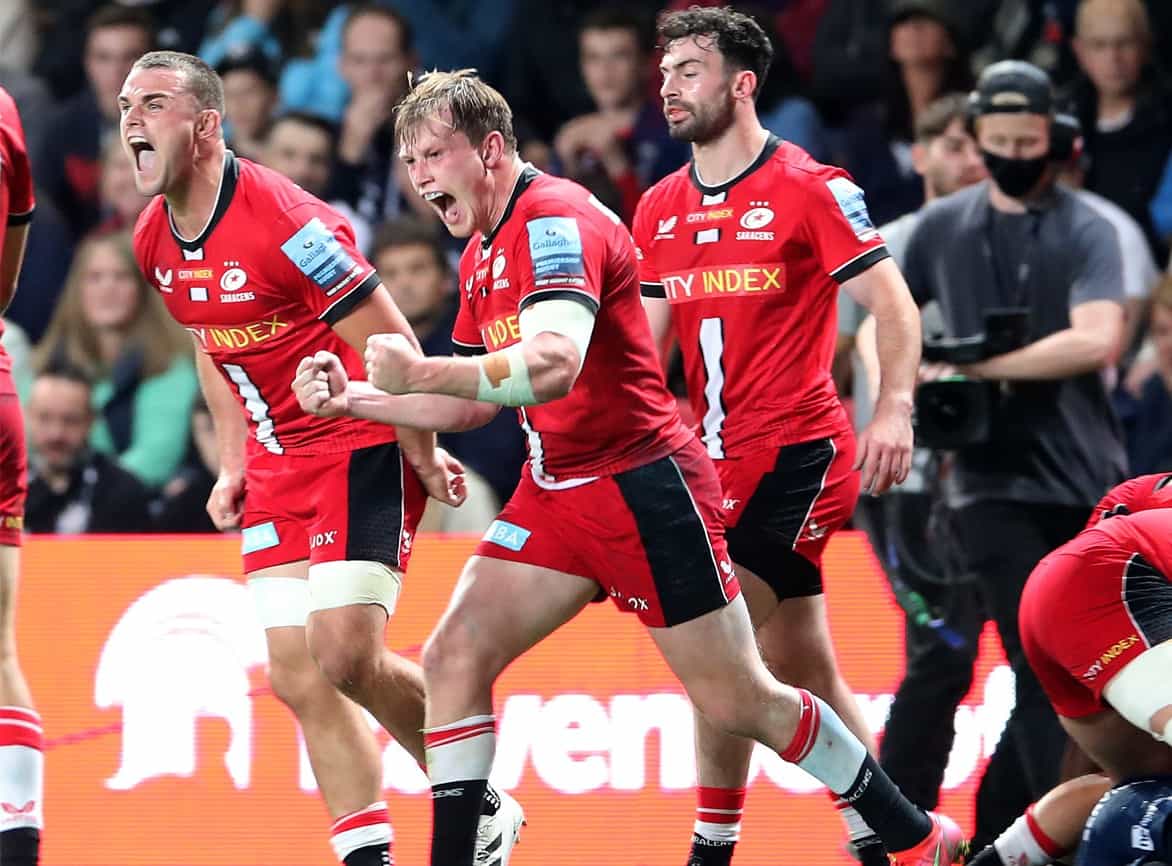 FIREWORKS (ON AND OFF THE PITCH!)
Get behind the Men in Black as they look to continue their 2021/22 campaign at StoneX Stadium.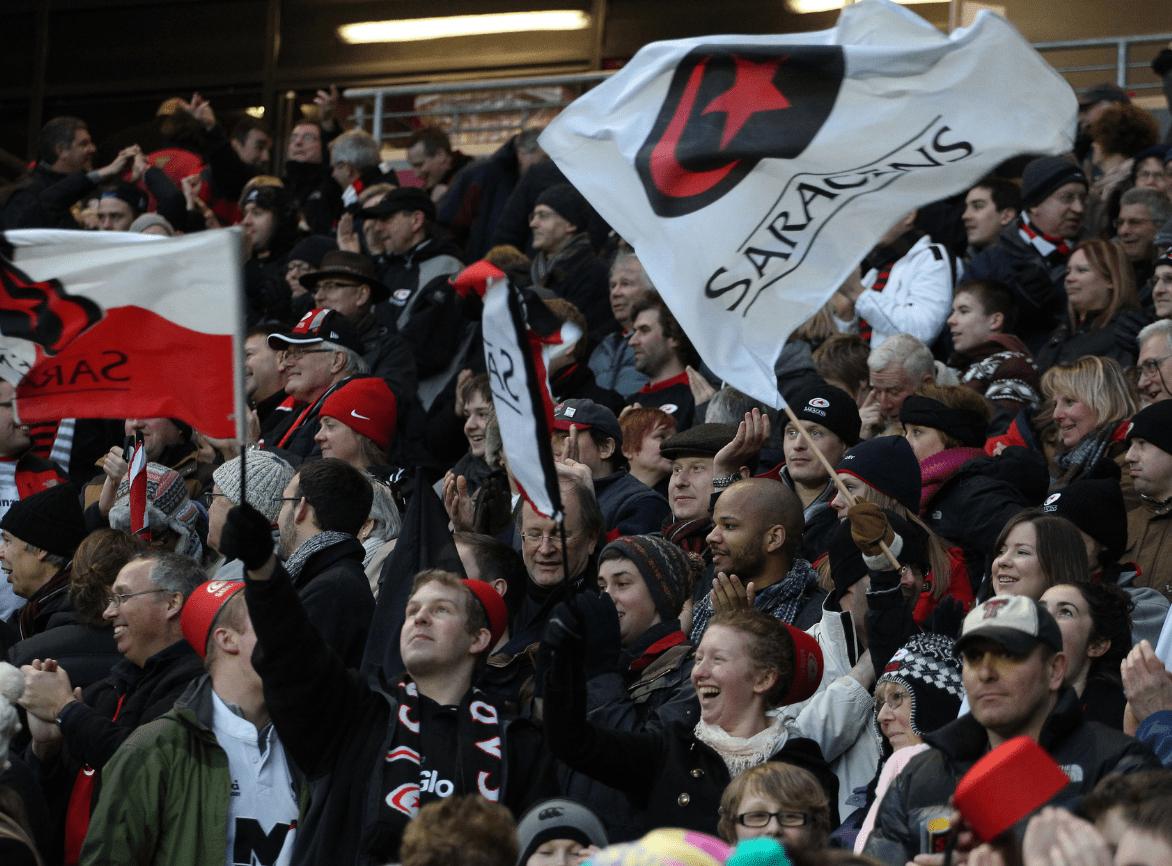 FUN FOR ALL
The perfect day out for the whole family, friends, stags, hens: fun for all at StoneX Stadium!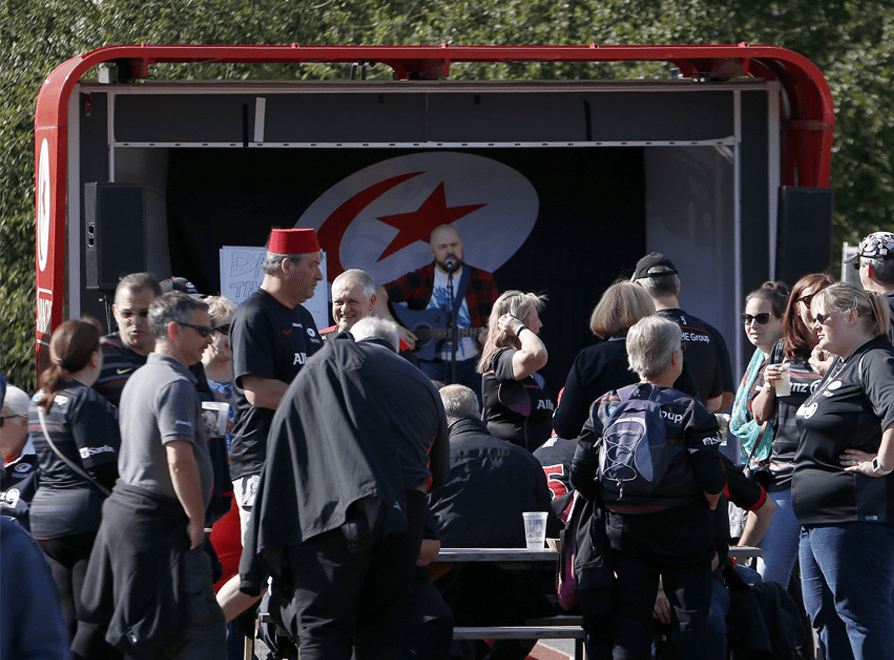 LIVE ENTERTAINMENT
Enjoy a host of live entertainment in the Oasis throughout the day to get the party started!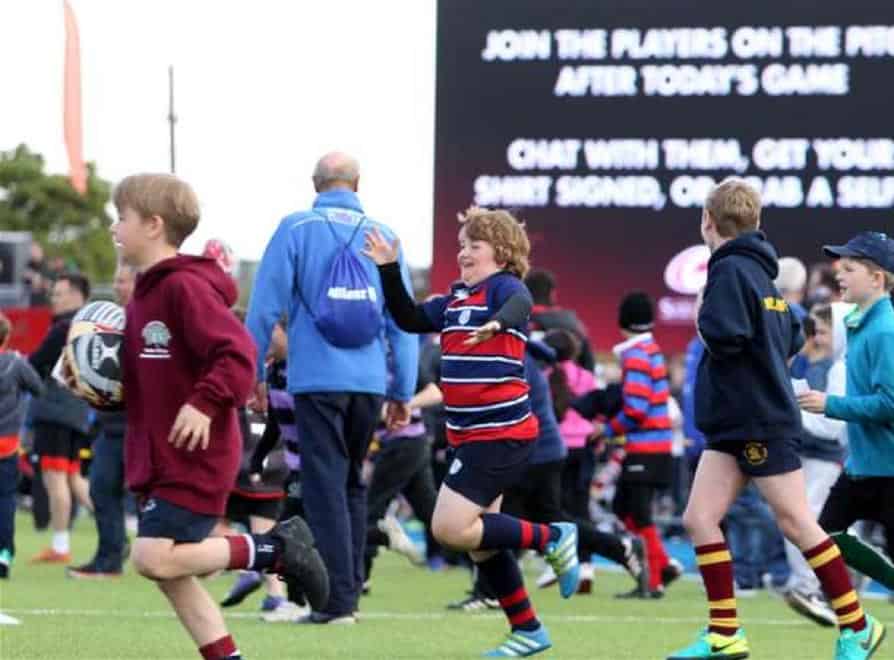 RUN ON THE PITCH
We invite everyone to experience our cutting edge 4G pitch after the final whistle – don't forget your ball! Please note: due to COVID-19 protocols, fans cannot enter the pitch until all players have completed their necessary post match requirements and have left the pitch.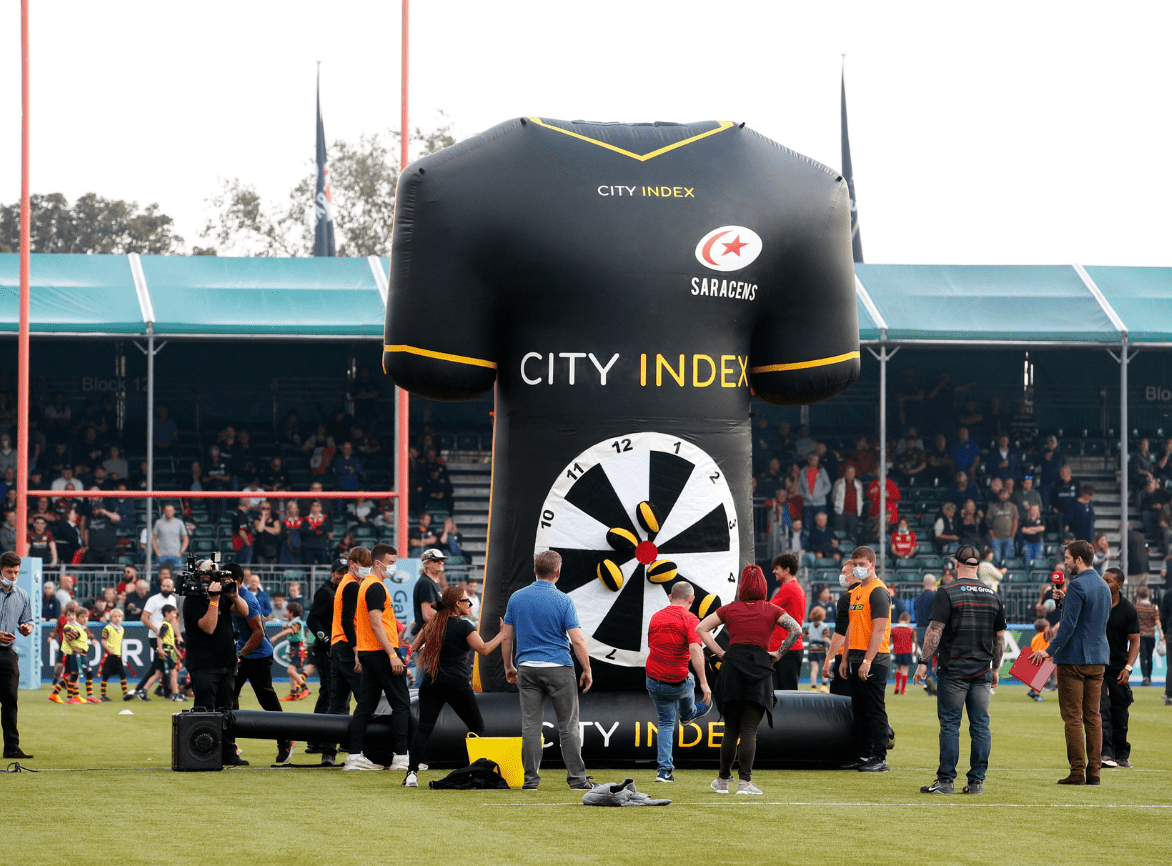 SPONSOR ACTIVATIONS
Our awesome sponsors, City Index and Shawbrook Bank have some special match day surprises in store…