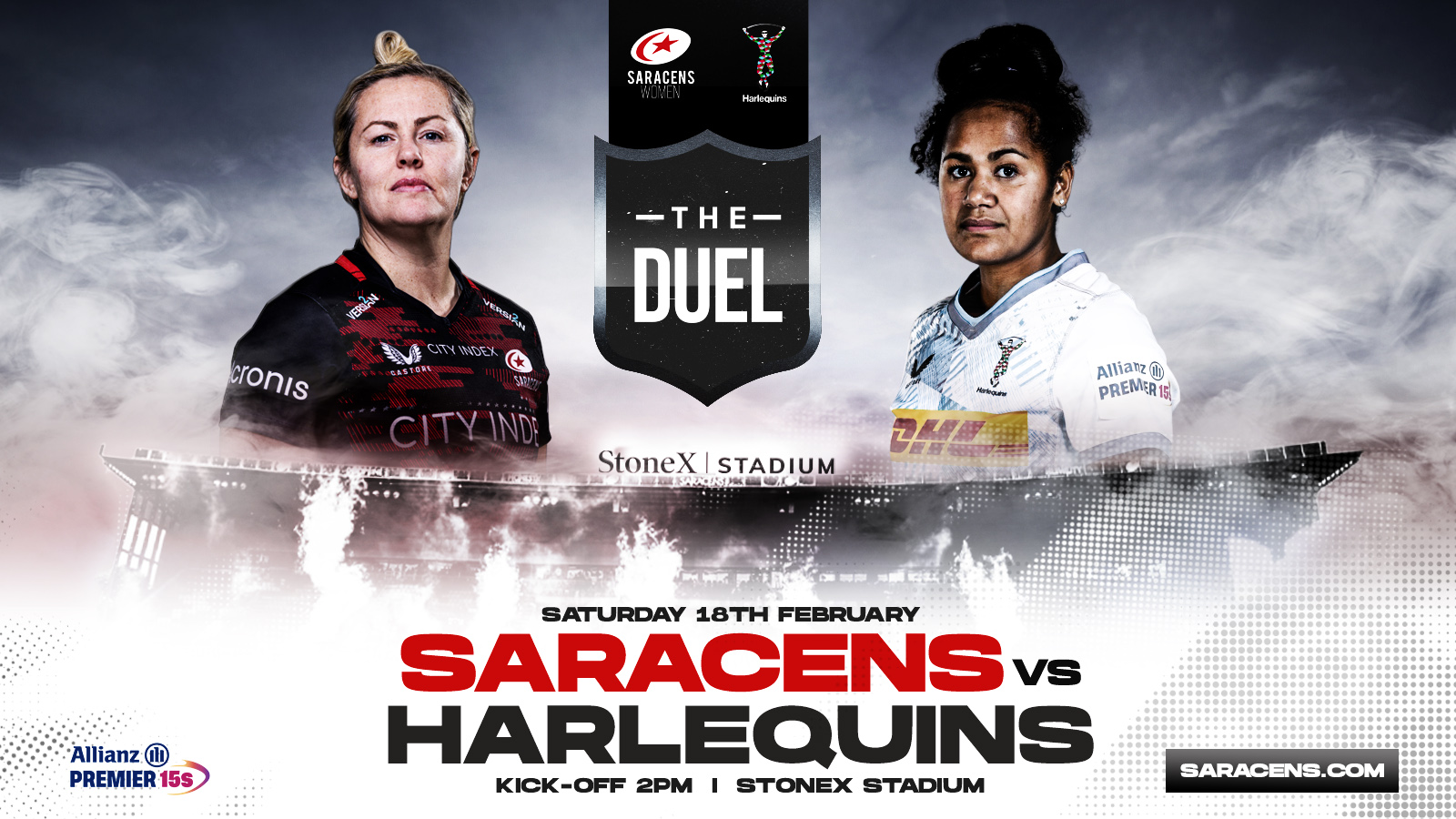 The Duel is back, as London's Biggest Rivalry goes into overdrive.
Saracens are delighted to announce the return of The Duel!
On Saturday 18th February, Saracens Women and Harlequins Women lock horns once again, as London's biggest rivalry goes into overdrive.
Both sides will be aiming to build momentum as the race for the play-offs hots up and, after a defeat against Harlequins earlier in the season, Saracens will be determined to right the wrongs of that afternoon back in the familiar surroundings of StoneX Stadium.
With mouth-watering matchups across the park, this isn't an event to miss. Jess Breach vs Abby Dow, Poppy Cleall vs Bryony Cleall, May Campbell vs Amy Cokayne. Wherever you look on the pitch, head-to-head battles are aplenty.
It isn't just about the action on the pitch either, with a festival running in the morning for a large number of talented young rugby players, plus some fantastic events planned throughout the day itself.
What's more, premium hospitality is available for this match, providing fans with a unique gameday experience opportunity. Prices start at just £99 including VAT. Contact sidyoung@saracens.net for more information.
Tickets are on sale now, so be sure to secure your seat for what is simply the biggest game of the season!
It's the hottest ticket in town, to watch the brightest stars in action, and all for just £10!
The big clash, LIVE at StoneX Stadium
Access to StoneX Stadium to watch The Duel live!
ADULTS £10, U16 £5
Tulip Club seats and access to Tulip Club Balcony
Two course roast dinner
Unlimited drinks up to half time
On-site parking
Q&A with players
£99 including VAT
Private VIP box for 10
Two course meal
Unlimited drinks for whole day
On-site parking
Photos and signing opportunities with players
£1500 including VAT
Please acquaint yourself with the stadium layout here, where you will be able to see locations of the stands, toilets, ticket office, shop and food concessions. Should you need any help making your away around the stadium, look out for our Pioneers in blue/black Castore tees who will be happy to help!