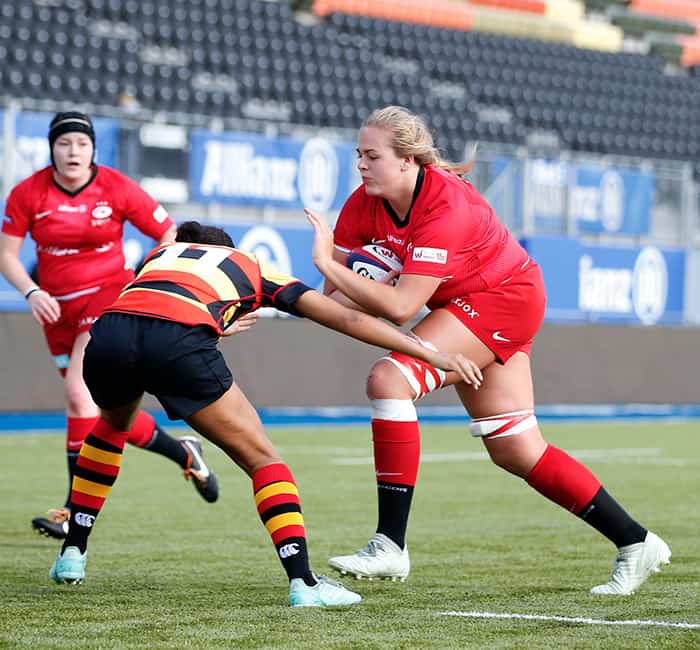 Molly Morrissey: It was important to get back on the field
Every rugby player experiences their fair share of injuries and knocks throughout their career.
From the innocuous to the season ending, these setbacks apply just as much to someone playing at your local grassroots club as it does to those playing at the very highest level.
Returning from a long-term injury can be a taxing experience, both physically and emotionally. Throw in the prospect of joining a new club at the same time and suddenly that pressure you're under could go up a notch.
Molly Morrissey found herself in such a situation over the summer as she made the move from Gloucester-Hartpury to Saracens while in the final stages of her return from surgery on a ruptured ACL and MCL.
The second-row was understandably keen to get back playing but once she arrived she realised that she would have to take a step back
I needed a change of scenery and a new challenge
"When I arrived in July I thought I was close to match ready but the medical staff fully reappraised me from the ground up and redesigned all my programmes to get me where Saracens felt I could get.
"It did feel like one step forward two steps back, but everything was done at my pace, the view being they have a big squad and they want their players right for the long term. Player welfare is a key focus in the club."
And while any added setback to returning to play is frustrating, Morrissey is able to look back on the summer and appreciate that it wasn't exactly doom and gloom.
"I suppose it's expected at some point you're going to have setbacks and you've just got too take it all in your stride and not let it phase you.
"I'd waited 18 months so to then have to wait a couple more weeks isn't the end of the world."
Morrissey was able to make her first appearance in Sarries colours in the opening round of Development League against Bristol Bears Women and has gone on to make six appearances for the club this season with starts for both the First XV and the Dev Team.
Making your debut at a new club is pretty daunting normally. No matter how well things have gone in training, you always want to impress your new teammates when you step on the pitch together for the first time.
But for the former England U20 international, just getting out on the pitch and having the right support from the coaching staff made all the difference.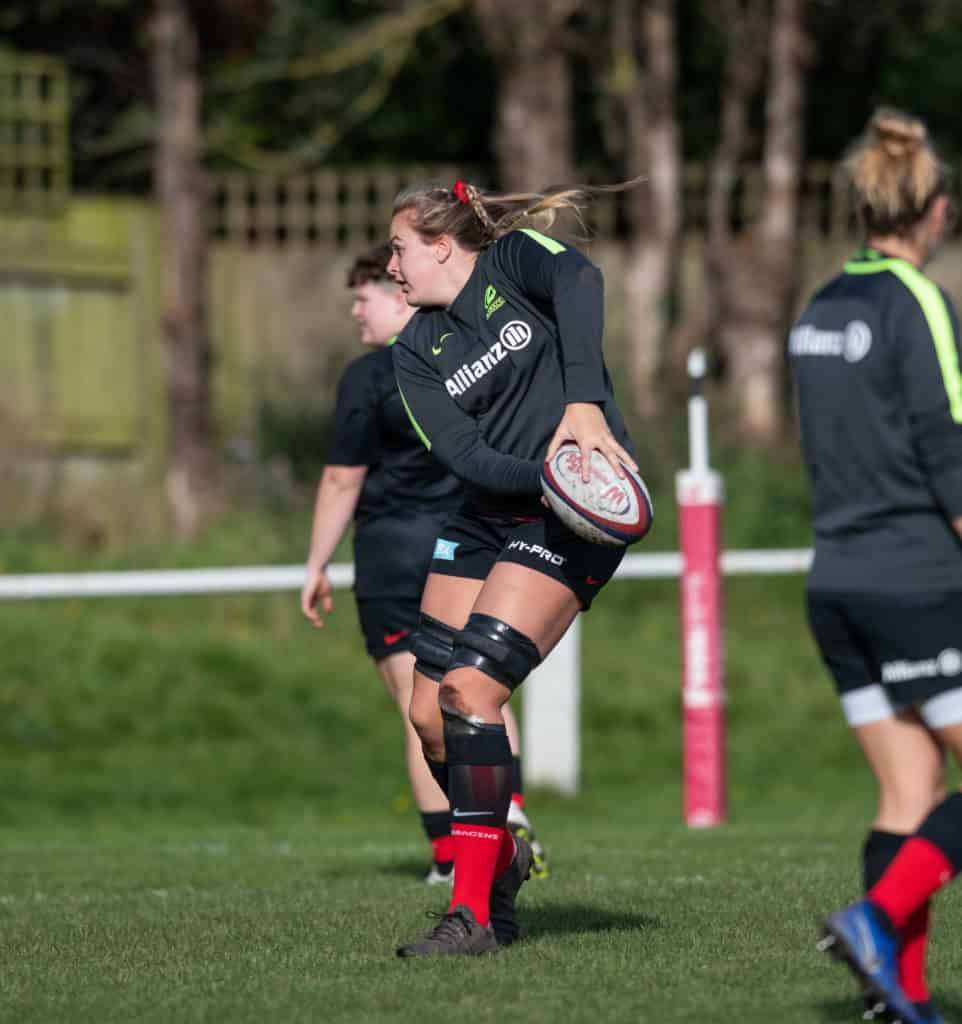 "It was important to get back on the field for whatever team, and I'm very glad I had the opportunity to build my minutes up.
"Ultimately you can do as much training as you like to try and get that match fitness back, but nothing quite compares to a fixture.
"One of the reasons I came here was for the coaching and the set-up, the coaches felt my return to play should be handled a specific way, they explained why, and it made sense.
"So, I went out and enjoyed it. Grabbing a couple of tries helped too!"
And while it would be understandable to be more nervous when making your first competitive appearance in over 18 months, Morrissey admits that nerves are part and parcel of the game for her.
"I've always got nervous before games so I wouldn't say that my injury or time off has changed that.
"As soon as I have my first involvement the nerves go, and I just try to have a bit of fun and not feel any pressure."
Morrissey spent two seasons at Gloucester-Hartpury and while that time was punctured by a long-term injury, it's not always an easy choice to make a move to a new club.
Coming to a new environment where you want to establish yourself while also getting to know a whole host of new faces. Though having some familiar ones certainly helped.
"I needed a change of scenery and a new challenge.
"Coming into the club there were lots of new faces but also some familiar ones mainly from time shared at Hartpury so that made it a bit easier I suppose. Those that I didn't know have been welcoming.
"Everyone is really professional and wants success and understands that having that competition of new players really drives the standards.
"If you come here and show in training you are prepared to work hard, everyone welcomes you with open arms."
It's that competition for places that was a cornerstone of the team's success last season, in both the Premier 15s and the Development League.
When injuries hit players were able to move up and down between both teams and help drive the standards across the squad.
Having had the chance to play in the both teams this season, Morrissey is under no illusions as to how hard she will have to work this season to maintain her place.
"We've got a talented squad and the strength in depth is ridiculous.
"I'd say most of the Dev players have the ability to push into the first team, there's a lot of competition for shirts."
Another similarity to last season was the squad's ability to come through tough matches. While there were some big wins, it was the close ones that told in the long run with both the First XV and Dev Team showing they could win even when not at their best.
"Although I'm new to the squad and not part of what's happened the last two seasons, it's far too soon to be thinking about the end of the season.
"I think it's important to take each game as it comes. I also wouldn't say we've put out an 80-minute performance to our full potential yet and we have still managed to win each game so far."
Latest News Articles