Final Tickets Remain for Ulster Showdown
Petrus Du Plessis was superb, and I'm not sure how he wasn't Man of the Match, as to scrummage that way against Marcos Ayerza takes some doing. I thought he was brilliant today." - See more at: http://www.saracens.com/news-article/mccall-hails-pack-performance-after-tigers-result#sthash.tZ9etc1v.dpuf
Petrus Du Plessis was superb, and I'm not sure how he wasn't Man of the Match, as to scrummage that way against Marcos Ayerza takes some doing. I thought he was brilliant today." - See more at: http://www.saracens.com/news-article/mccall-hails-pack-performance-after-tigers-result#sthash.tZ9etc1v.dpuf
GAME DAY and the final couple of hundred tickets are still on sale. The excitement of European Rugby in north London has returned. The teams have been announced, the weather is set to be fresh but beautiful sunshine.
Saracens announced their team yesterday with a win guaranteeing top spot in Pool 1 and a probable home quarter final.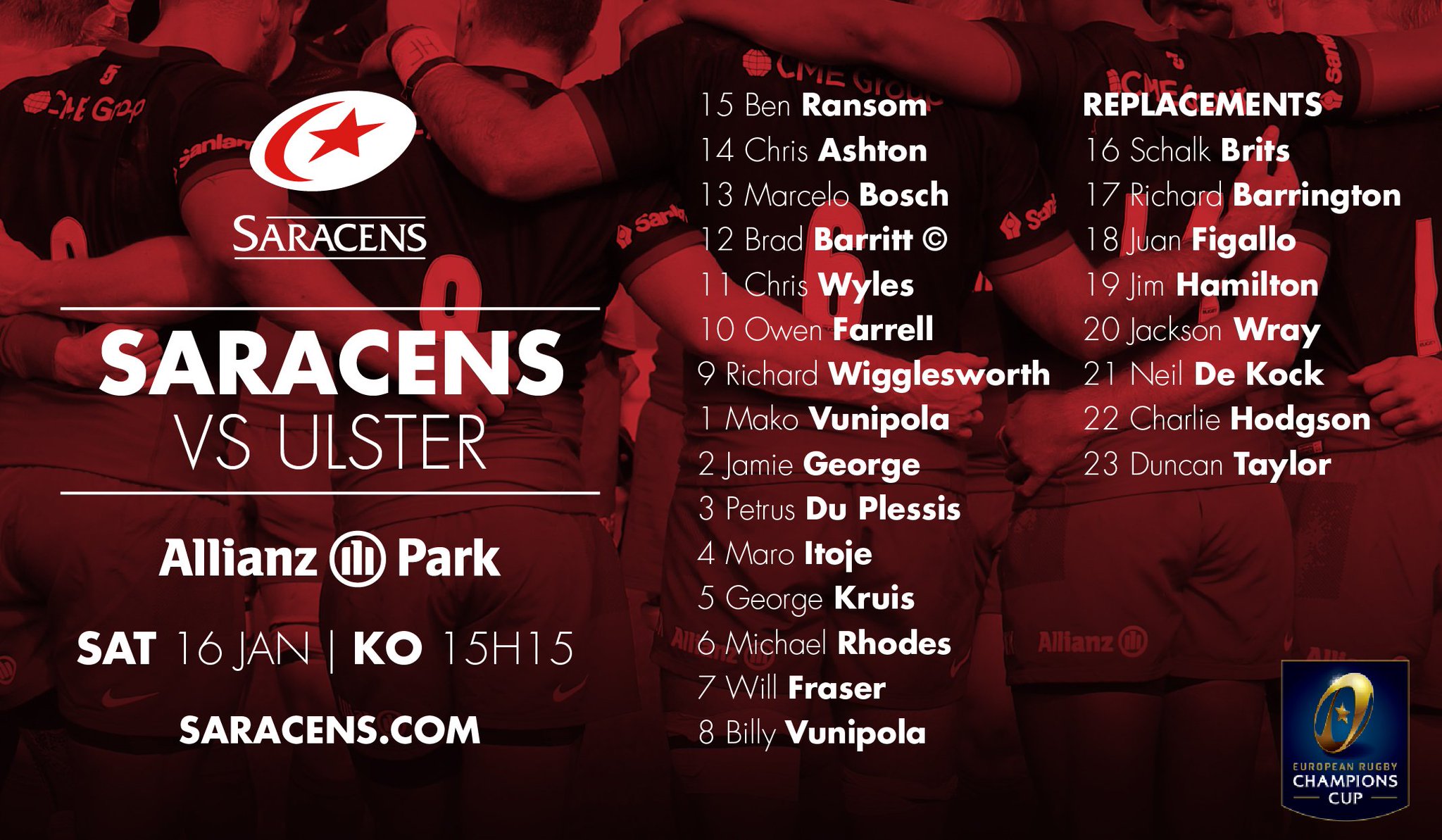 Ulster travel to Alllianz Park with renewed vigour and purpose following an exceptional second half come back in their rescheduled away fixture against Oyonnax last weekend.
Ulster Team:
(15-9): J Payne, A Trimble, L Marshall, S McCloskey, C Gilroy; P Jackson, R Pienaar;
(1-8): K McCall, R Best (capt), W Herbst; A O'Connor, F van der Merwe; R Diack, S Reidy, R Wilson;
Replacements (16-23): R Herring, C Black, R Lutton, L Stevenson, C Ross, P Marshall, I Humphreys, R Scholes.
Whether you're a proud Saracen, a travelling Ulsterman or a rugby neutral will can guarantee you fireworks at Allianz Park this afternoon.
Tickets Available:
Online by going to the Saracens E-ticketing site by following this link
Phone by calling the Ticket Office hotline on 0844 847 1876
Stadium by visiting the Ticket Office by Gate B from 12h30
Getting to Allianz Park
Allianz Park is located in the heart of North London, post code NW4 1RL. The Saracens Shuttle will pick up passengers at Edward Station, Mill Hill Broadway Station and Mill Hill East and runs every 6 to 7 minutes making travel to Allianz Park very simple.
Tickets for the Storm match are free for Season Ticket Holders with Adult tickets at just £10. Under 16 tickets and parking are also free of charge. - See more at: http://www.saracens.com/news-article/fans-forum-4th-january-7pm-in-the-hundred-club#sthash.h6B0MJH5.dpuf