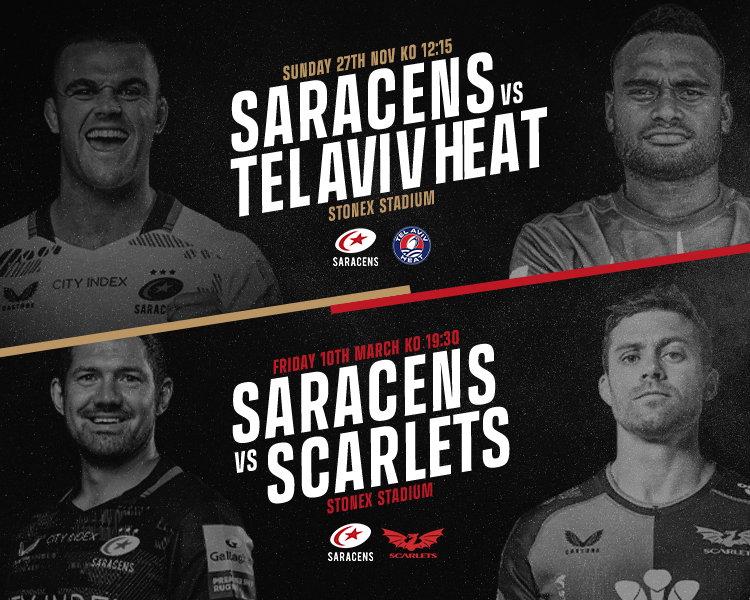 Saracens announce replacement matches against Tel Aviv Heat & Scarlets
Dear Sarries Family,
Good people losing their jobs at Worcester and Wasps has been awful to see. Not that we ever forget this, but it is a massive reminder of the responsibility we have at Saracens to look after and genuinely care for our people. It is also a reminder of the massive part a rugby club can play in people's lives, whether they are a supporter, an employee or part of the wider community.
A fan's dedication and loyalty to their club should never be underestimated or disrespected because it is incredible; I have been humbled by it on so many occasions. I can't say it enough but to all you Sarries fans… thank you.
We are acutely aware that our Seasonal Members are losing our home fixtures against both Wasps and Worcester. We have been working hard to fill this void in a meaningful way, whilst also giving you certainty and above all making sure we are delivering value and we hope that you share in our excitement for the below offering in lieu of our cancelled games versus Wasps and Worcester:
1) Our first event is a double header and combines action against opposition from home and abroad.
Sunday 27th November – Saracens Men v Tel Aviv Heat (12.15 KO) & Saracens Women v Wasps Women (15.15 KO)
• The Tel Aviv Heat is the first professional Israeli rugby union team. Based in Tel Aviv, the team competes annually in the Eastern Conference of the Rugby Europe Super Cup, alongside RC Batumi and The Black Lion of Georgia as well as the Romanian Wolves of Romania. They have just qualified for their semi-final play offs which takes place on 3rd/4th December and this fixture will provide a valuable test for both teams as Saracens also head into European Champions Cup competition. Saracens embraces our Jewish community in north London, and we look forward to hosting this special fixture, which will take place on a Sunday to permit those who observe the Jewish Sabbath on Saturday to attend this historic match at StoneX Stadium.
• Saracens Women take on Wasps Women on Sunday 27th November as part of the AP15's league, with Saracens featuring returning players from the Rugby World Cup. We want to galvanise our support for our Women's team, and indeed for Wasps Women who continue to play despite the challenges of the broader club.
• We will run a full hospitality and public catering offering throughout the day.
• All our Seasonal Members and Hospitality Members will be able to access both games as part of their Seasonal Membership.
2) We are delighted to announce a big Anglo-Welsh battle in the second half of the season.
Friday 10th March, 19.30 KO – Saracens Men Vs Scarlets
• Rugby legends will lead a fans Q&A to review Round 1 of the 6 Nations and preview Round 2.
• We will run a full hospitality and public catering offering throughout the day.
• All our Seasonal Members and Hospitality Members will be able to access this Anglo-Welsh clash as part of their Seasonal Membership. The game will take place on Friday evening at the request of the Welsh RFU to avoid playing on the same day Wales take on Scotland in the 6 Nations.
On behalf of everyone at Saracens, we thank you for your ongoing patience and support and we look forward to seeing you all at StoneX Stadium soon.
Take care Sarries family,
Lucy
P.S. Because everybody reads a P.S. …..do tune in to the Rugby World Cup Final this Saturday morning, kick-off: 6.30am, watch it live on ITV. Plenty of Saracens Women's players involved so we wish them well and look forward to their return.
Latest News Articles