Looking forward to seeing your Saracens Women team back in action?
With the continued growth and expansion of women's rugby across the globe, 2021 saw even more outstanding performances and entertainment provided by the Saracens squad across the domestic, international and Olympic stage.
As a club we are determined to develop the Women's game further and match our players performances on the pitch.
The introduction of the new Saracens Women's seasonal membership will help ensure Saracens stay at the forefront of women's elite rugby and will enable the club to support our women's players so that they can be the best that they can be in an increasingly professional environment. All money from the Women's seasonal membership will be reinvested into the women's game.
To help us plan and deliver the very best matchday experience for the recently announced Allianz Premier 15s women's 2021/22 Season fixtures, please provide us with information about your intention with regard to attending women's fixtures next season and to register your interest in purchasing tickets for specific matches. Cup fixture details TBC.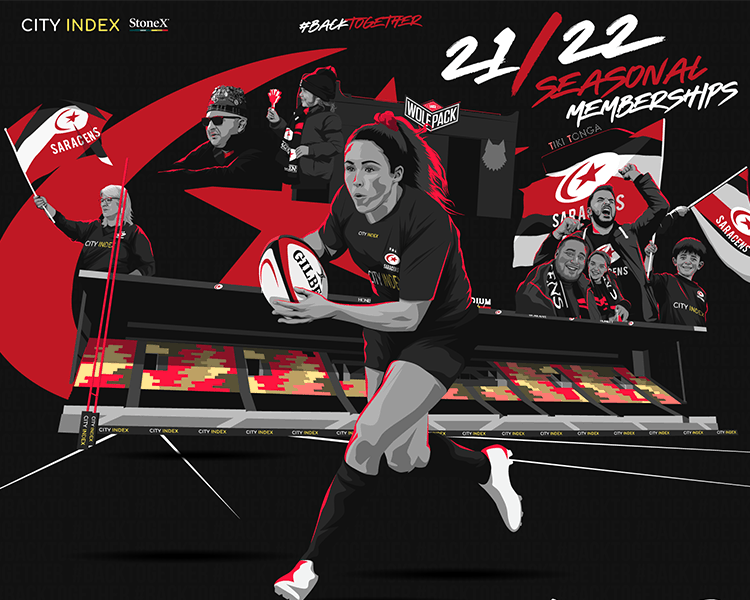 EXISTING SEASONAL MEMBERS
All Seasonal Members who purchased a multi season membership for the Men's fixtures will still get access to the women's games for the duration of their membership, i.e. through to the end of the 2021/22 or 2022/23 season.
NEW SEASONAL MEMBERS
For the 2021/22 season we have launched our first ever Women's Seasonal membership at £65 which will give you access to all home league and cup games. Please note knock-out games will be sold on a match by match basis with a priority window and upgrade for all Seasonal Members.
MATCH BY MATCH TICKETS
All home matches for the 2021/22 season (9 league + 2 cup = 11 games) will go on general sale from Tuesday 7th September but please do register below for the chance to book your seats in our early bird window.
Home Match Ticket Interest
If you would like more than 9 tickets please contact supporterservices@saracens.net