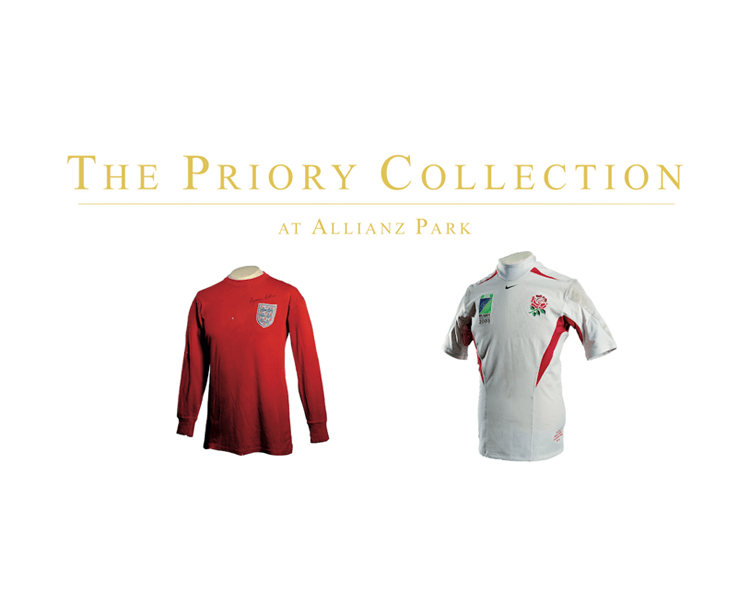 Take a tour of the Priory Collection
The Priory Collection – one of the World's largest and most prestigious private sporting collections.
Thirty years ago Nigel Wray attended a dinner following an international rugby match between England and Wales, and, at an auction that night, successfully bid £250 for the match ball. "A few days later" says Nigel, "while watching highlights on the television, I realised that the ball being used was a different brand to the one that was now my most prized possession. From that inauspicious start I was inspired to continue in what, I suppose, has become a real passion."
The result of that passion is a collection of jerseys, bats, caps, balls, paintings and other items – known as The Priory Collection – which is one of the largest and most prestigious private sporting collections in the world. This collection of memorabilia tells a fascinating story of our rich sporting history going back over 150 years.
Of course a bat is just a bat, but when there's a story to tell, a unique moment of sporting history, that bat comes to life, as Nigel explains, "like the one used by Sir Don Bradman to make 232 at The Oval in 1930 in what was Sir Jack Hobbs' last match for England."
The immense collection has in recent years found a permanent home at Allianz Park which allows people to see much of the collection in person, but to make the items available to the largest possible audience Nigel has decided to put the collection on film. In The Priory Collection at Allianz Park Nigel tells the incredible stories behind the items using iconic images and footage from the global sporting archive, the Berlin Olympics, the epic Bodyline series to the Miracle at Headingley and the 2003 Rugby World Cup Final.
sport is a universal language. It's part of everybody's roots
Nigel talks about the stories behind hugely significant items such as WG Grace's last cricket bat, the England jersey won by hat trick hero Geoff Hurst in the 1966 World Cup Final and Pele's winning medal from four years later, and more surprising items such as the first team sheet signed by Alex Ferguson at Manchester United.
"It's a collection which can never be reproduced, because it's a series of one-offs from a number of sports" says Nigel. "People often say 'What's your favourite item?' And the answer is I don't have a favourite item, because it's the collection; it's all those items together that makes it attractive. It's unique and long may it stay together."
This film is the culmination of Nigel's 30 years of collecting, and a chance for everyone to discover or relive incredible stories from our sporting past. "We all have to know where we've come from, we have to have a past, to have roots… That's what I think the essence of memorabilia is, and sport is a universal language. It's part of everybody's roots."
Watch the Priory Collection come to life in the trailer below.
Latest News Articles